The Bold's Design
The number 1 thing you discover once you take the Bold out of its box is its pretty wide width–but this does allow for a full QWERTY keyboard and a broad screen. The Bold's keyboard is good. Its keys are well spaced and they are raised at one so you can easily differentiate between each one.

The Bold's screen is also amazingly clear. RIM mentioned that the Bold acquired its name during user testing, when numerous users commented how "bold" the screen appeared. The screen is ideal for watching videos , surfing the internet and reading emails.
For ease of navigation, there is  trackball which a few users like although other people found fiddly. It does work well and when you become accustomed to it operation, it can make navigating  through the menu very straightforward.
Key Features
The Bold features  HSDPA and Wi-Fi, offering high-speed electronic mail and Internet access virtually everywhere you go, and  the onboard GPS is pretty useful to find out where you and current surroundings.
The setup email is reasonably straightforward.  If  you're not going to use it to access your company email, you are able to use BlackBerry Internet Service to setup a assortment of email accounts, including Microsoft Exchange. The Bold's Internet web browser is easy to use, rendering pages in a desktop format, altho it doesn't support Flash.
The GPS works well  outdoors, but not that great when you're indoors. You can use BlackBerry Maps, which lets you do useful things such as sending your location to your friends. GoogleMaps also work with the Bold's GPS.

The Bold has a  a standard 3.5mm headphone jack, meaning you can use your own normal headphones with it.  The music player is basic, but supports most  formats and is its usage is  satisfactory.
THe Bold's 2 megapixel camera  didn't take good day or night shots. It does have a LED flash, but didn't work very well  us at night . It's ok if you just need to take the odd snap to send to your friends over MMS, but not particularly great at taking high quality pictures.
The Bold's Performance
The Bold is a huge improvement over older BlackBerries and combined with a fast processor (624MHz), offers a really great user experience. You feel like it is delivering the sort of power you expect from a smart phone–there is no issues with performing normal activities such as surfing the internet, surfing the internet  or using applications.
The Bold has a very loud speaker and works very well as  a hands-free or conference calls.
The Bold's battery life is estimated to be  at around 10 days standby and around 4 hours talk time.
Conclusion
If you're a existing  BlackBerry user, you will certainly be interested in looking at  the Bold. Ordinary users after a easy to use smartphone with a great screen and a keyboard will probably be interested too!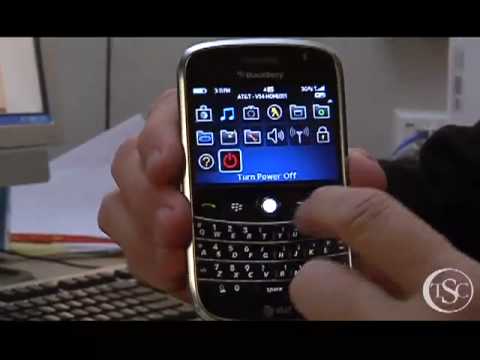 With the vast number of smartphones available in the market, choosing a smartphone has increasingly becoming a difficult task for the ordinary folks!
Whilst the internet, in particular the all powerful Google search engine, sourcing information on smartphones have never been easier..and confusing to those not familiar with IT jargon or technical terms.
In this article, I hope to share some tips on choosing a smartphone in a non technical manner. I'll make references to the iPhone 3G as this is by far the most popular smartphone on the market and some of you may want to know my thoughts on it being an iPhone user.
So, in layman terms, what is a smartphone?
A smartphone is similar to a PC in that it runs an operating system software and provides an interface that allows its owner to modify smartphone settings and run software programs.
It also presents a platform that allows developers to create programs too. A good example would be the extremely popular iPhone 3G with its intuitive, easy to use touchscreen interface that is attracting many software developers to create, sell and publish iPhone applications exclusively through iTunes Application Store.
The smartphone also provides PC like functions such as e-mail, Internet and e-book reader capabilities, and/or a built-in full keyboard or external attachable USB keyboard.
Smartphone: Needs

While choosing a smartphone, don't get pressured into buying one just because your friend and family tells you to "go get the latest and greatest smartphone dude!".
First things first; you should make a list of features you plan to have or need in a smartphone. Consider how much you are willing to spend on phone and more importantly, the phone plan!. For example, do you use the smartphone more so as a phone for calling or texting messages or as a mobile PC, allowing you to send surf the internet, pay bills online, read news?
Key features that you may want to consider in a smartphone may be:
Input
Most smartphones come with touchscreens which are increasingly popular and  replacing physical keyboards. If you consider your top criteria for the smartphone to be a mobile phone, I strongly recommend you get one with a physical keyboard, not a touchscreen keyboard (Insert pic right below: HTC S730 has a normal phone keypad as well as a slider thumb keyboard for input.
Some smartphones also come with a stylus which are really good if you like to scribble/write on your smartphone. Beware that if the smartphone's screen is smaller than 2.5″ , this virtual writing experience may not be very productive or efficient.
Just so you're aware, the iPhone 3G does not have a stylus. There are iPhone programs that allow you to write/scribble with your fingers.
Personal Information Management tools
All smartphones will come with PIM tools such as calendar, contacts, task list and notes. If you wish to synchronise your smartphone PIM with your PC's (assuming you use the popular Microsoft Outlook), make sure this smartphone comes with the appropriate data synchronisation software that is compatible with Outlook. It's almost certain that all smartphones will support synchronising (or "synching") with Microsoft Outlook.
Screen Size and Resolution
All about screen "real estate" – if you like to watch videos or surf the internet on your smartphone, a larger screen (albeit the smartphone will have to be larger in dimensions!) may be a requirement. From personal experience, anything less than a 2.5″ smartphone screen may be pushing it!
Oh, and pixels? That describes the screen resolution – that is, how clear/sharp your screen looks.
Smartphone resolutions will generally be 320 x 240 pixels and this will be sufficient for most users.
I had a HTC Touch Pro with a 2.5″ screen with a screen resolution of up to 640 x 480 pixels. I found watching a video on it to be less comfortable than an iPhone 3G with a larger screen but less pixels (480 x 320).
Storage
The smartphones usually allow you to store data. Some have slots that support mini storage cards such as SD, miniSD, microSD, MMC type cards. You can find these cards going up to 1 to 16G in storage sizes.
Some smartphones have built in storage and does not have slots.
Multimedia
Smartphones always have a built in music player, video player, image viewers and support for different audio and video codecs that allows you to listen and play a broad range of music and video file formats.
Cameras are almost a standard feature for most smartphones. Check that it has a front camera if you intend to do video calling
Communication
Almost all smartphones come with a data cable that allows you to connect to your PC and sync files or personal informations such as contacts, calendars and/or tasks.
Other connectivity options are wireless and bluetooth which allows you to use a vast array or bluetooth accessories such as handsfree headsets, wireless stereo headsets, wireless keyboards and mice.
Some phones like the HTC Touch range comes bundled with satellite navigation system for GPS navigation purposes.
Performance
Do you see yourself using multiple applications on your smartphone? If not, most smartphones usually won't have any issues performance if you use it for general purposes.
What Next?
Create a shortlist of smartphones that best meet your criteria list and then reduce this shortlist further by comparing reliability (any widespread negative reviews and feedback on this smartphone?), supportability (is there local support in your area for this brand of smartphone?) and warranty (is there local warranty for this brand of smartphone?)
Once you have thought of the above, you should compare the different options which match your criteria, read user reviews, feedback and compare pricings.
Wrapping Up
What's left should hopefully be your ideal choice. If more than 1 exists, then it'll be down to personal preference..which one appeals to you asthetically
Need More Help or Info?
This is where our website should hopefully help out with the information!
We will also reference other websites as well so you can pretty much use www.goodsmartphone.com as your single search portal to save on preciousy time in searching multiple authoratative smartphone websites or having to read through lengthy, IT jargon filled review. We'll collect, summarise, categorise and simplify the latest, meaningfuls smartphone news and information for you.
Ask us any questions and we'll endeavour to provide useful feedback.
Best of luck in your search of YOUR ideal smartphone and if you end up purchasing it, we'll be interested to know so drop us a note!
Thanks for you time.